02.24.11

ROBBY MOTT WINS AT THE FLORIDA WINTER TOUR 2010 WITH RIBTECT CARBON SEAT!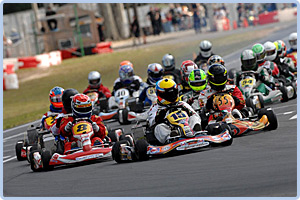 Around October of 2009 I received a call from Paul LaLonde from Canada asking if I would be interested in racing for him at the Florida Winter Tour the following season. After considering this for 3 seconds I agreed. I had not taken a green flag for 6 years at this point. The first thing I knew I had to do was get in the gym right away.

I had about 25 pounds to lose and about 3 months to do it. Paul shipped me his Corsa CH-14 chassis equipped with a Rotax package so that I could begin my track testing. I mounted a Ribtect carbon seat as close to factory specs as possible and prepped the kart for testing. I would drive to the track and practice for 2 days at a time running 25 lap sessions all day long.

Finally, it was time to race! It was finally time to see if all of the preparation would pay off. At the first event in Orlando I ended up a close 3rd in the main on Saturday. After making a few adjustments for the next day, I found myself winning the pre final. I won the main event that day under protest. I ended up with another 3rd place finish.

The next event on the tour was at Palm Beach. For this event, I decided to bring out the American iron, Margay chassis with the same Ribtect carbon seat. On Saturday, I led from flag to flag in the pre final and main event. On Sunday, I won the pre final and ended up with a 3rd place in the main.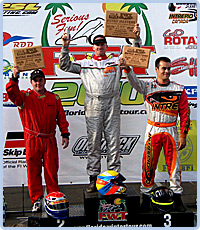 The final event was in Ocala and I was back on the Corsa Kart and Ribtect carbon seat of course. On Saturday, I would find myself 6th on the grid for qualifying. From 6th to 2nd on the start, I find myself leading after the 2nd lap. I was passed and ended up 2nd in the pre final. Starting from the front row, I led the main event from flag to flag. On Sunday, I qualified on pole in the rain. In the pre final I started to check out from the field until I suffered from a mechanical problem, dropping back to 3rd. Before the main event I changed the engine, the pipe and replaced the fuel. The problem was still there and I did not have good finish. Turns out the problem was a cracked Rotax battery.

I ended up tying with Scott Holmboe for the Masters Championship at the Florida Winter Tour 2010.

Italian chassis

American chassis

Same driver... same engine... same Ribtect carbon seat... SAME RESULTS!!!



See the Ribtect X Pattern and Robbt Mott in Action
Click on the:
"Rotax Masters - Ocala Saturday" and
"Rotax Masters - Palm Beach Sunday"



View The Ribtect Carbon Fiber Seat