04.19.11

RIBTECT SEATS WIN RACES!!
Kart Bee Kleen Race Series with Paul Bonilla

Sponsored by Ribtect
Story by Paul Bonilla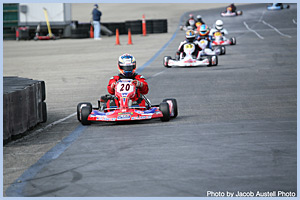 Ribtect seats are designed for comfort and to give your rib cage much more support... but are also designed for performance.

INTRODUCTION
Factory Ribtect Driver Paul Bonilla has been winning races with Ribtect seats for years. He has been running the Rotax Masters class with a Birel chassis. There are many weekends that Paul runs against equal drivers on the same chassis. Only difference is the seat... and a lot of those days Paul takes the win.

Recently, Bonilla has switched to the Arrow chassis and has already logged in some wins... again, utilizing the Ribtect carbon fiber seat.
– Robby Mottt

THE STORY
It was a cool wet morning that dawned the first round of the 2011 Kart Bee Kleen series at Fontana. The main focus for this race was to return the grass roots of karting by racing in KPV 4+ 100cc class.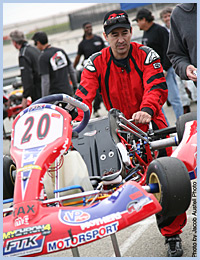 Being the hardcore racers that we are we opted to sign me up for both the KPV and the Rotax Masters class. Qualifying was done on rain tires and we were happy to grab the pole in our #20 Arrow in the KPV class and 5th in the #20 Rotax Birel. In the first heat we ran away and easily won in KPV and managed to work our way up to second in Rotax. Heat 2 was pretty much a carbon copy but moved ourselves up to first in the Rotax for the main.

For the main event in KPV we got a good start and managed to hold off a late charging Tyler Brooks at the finish. Rotax was another story. After a good start it was apparent that Tony Rossetti was fast and wanted by in a big way. For 16 laps we battled, bumped, and raced but managed to stay ahead and take the win.

"Gotta thank my Ribtect peeps, 4 wins in as many weeks with my Ribtect seat and vest. Grabbed 2 wins on the same day in KPV 4+ and Rotax Masters. Thanks Ribtect!!!"
Needless to say we were ecstatic to take both wins in a single day but to say I was tired is understatement. Fontana is fast with numerous sustained G-force corners. It's no exaggeration when I say that without my Ribtect seat and vest my torso would have been ground beef. Thanks Ribtect!!
– Paul Bonilla

View The Ribtect Carbon Fiber Seat